To be placed on our waiting list, please review the puppy contract and complete the questionnaire on this page. New Litters are Posted with pictures on Maximus Bernese Mountain Dogs on FaceBook. Thank you for visiting!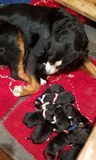 Puppies have arrived! Litter Born 4 SEP 2020. Please follow us at Maximus Bernese Mountain Dogs on Facebook. https://www.facebook.com/MaximusBernese/
Adoption Price for Limited AKC Registration is $2550.00
Please reach out to me f you are interested in Breeding Rights.
To join our waiting list, please complete our client questionnaire. We will be working through the applicants on the waiting list prior to reaching out to additional folks. Please review the process for adopting a puppy from Maximus Bernese on our Client Questionnaire and Maximus Bernese Mountain Dog Contract page.
Current
See our Face Book page for photos -- Maximus Bernese Mountain Dogs
Hazel/Grut Litter C SEP 4, 2020- 10 pups. 3 females and 7 males.
Past
Juniper/Grut Litter A. 8 Puppies--2 boys and 6 girls --Born May 12th starting at 11:30am and 13th, 2020 8 puppies (Willow was born on May 13. at 1:30pm)-
Hazel/Grut Litter B Born March 8, 2020- 9 Puppies --1.Joy girl 2.Viola girl 3.Ulysses boy 4.Rogue boy 5.Nancy girl 6.Dotti girl 7.Monster Mogie girl 8.Penelope girl 9.Thor boy --Weight at Birth: Mogie is the smallest at 1 pound and Viola is the largest 1.4
Hazel/Grut Litter A Born April 9, 2019. 7 Puppies -- 4 Males from Left to Right Moose, Septumus, Baby G, Ocho. 3 Females from Left to Right JJ, Quinny, Stripey